The Brenneman Family Title Pagetd
The Brenneman surname is among the cluster of our direct Mennonite families in America. They are among our German speaking forebears and Mennonite families emmigrating in the earliest portion of the Swope and Allied Lines to the Conestoga Settlement in the frontiers of Chester County, the area of which would later be known as Lancaster County and in which they were the first european pioneers. The Brenemans hailed from Canton Berne, Switzerland, at the time of their immigration in 1717. Their precense as ancestors is owed to the marriage of Anna Kate Stair to Samuel McCurdy Swope in 1876. Ann Kate's G Grandmother Elizabeth Brenneman was the last of our Brenneman directs for she married John Quickel and so her children bear the Quickel surname. Elizabeth Brenneman was the G Grandaughter of Melchior, our immigrant Brenneman She however, lies buried with her husband in the Lutheran/Reformed cemetery founded by her father in law Michael Quickel and so it is with Elizabeth Brenneman, and possibly with her parents, that our mennonite history is ended.

Albert H Gerberich writes in his "The Brenneman history" Scottdale, Pa.: Printed by Mennonite Pub. House, 1938:
"About the meaning of the name Brenneman we find various hypotheses. 1) One of the most likely theories is that it signifies ëa distillerí 2) According to another theroy, it means ëThe man from the Brennerí, a pass on the Tyrolean Alps between Austria and Italy 3) The great German etymologist, Dr Alred Gotze, believes it to be a diminutive of the Christian name ëBrandí [Brandi-mann] 4) Another authority will have it that it signifies ëan armour-burnisherí [Brunnimann]. 5) Sill a fifth insists that it means ëa charcoal burnerí 6) Finally , Dr H Turler, one time state archivist at Bern believes the family took its name from the hamlet of Brendi, near Belp in Switzerland. ...
"We know that the Brenneman family was establisehd in Canton Bern, Switzerland, in the Middle Ages, particularly in the neighborhood of Belp and in the Aare valley. From this point as a center the various families seem to have scattered abroad."

The European ascendancy pages of the Brenneman family are under construction. In the interim the following excerpts from Albert H Gerberich are offered, referencing the European ascendancy of this, our Brenneman line, and his comments on European experience of Melchior, "the Exile" [ for reasons of his faith] father to Melchior "the Immigrant" our first American Brenneman forebear.
Albert H Gerberich in his "The Brenneman history" Scottdale, Pa.: Printed by Mennonite Pub. House, 1938::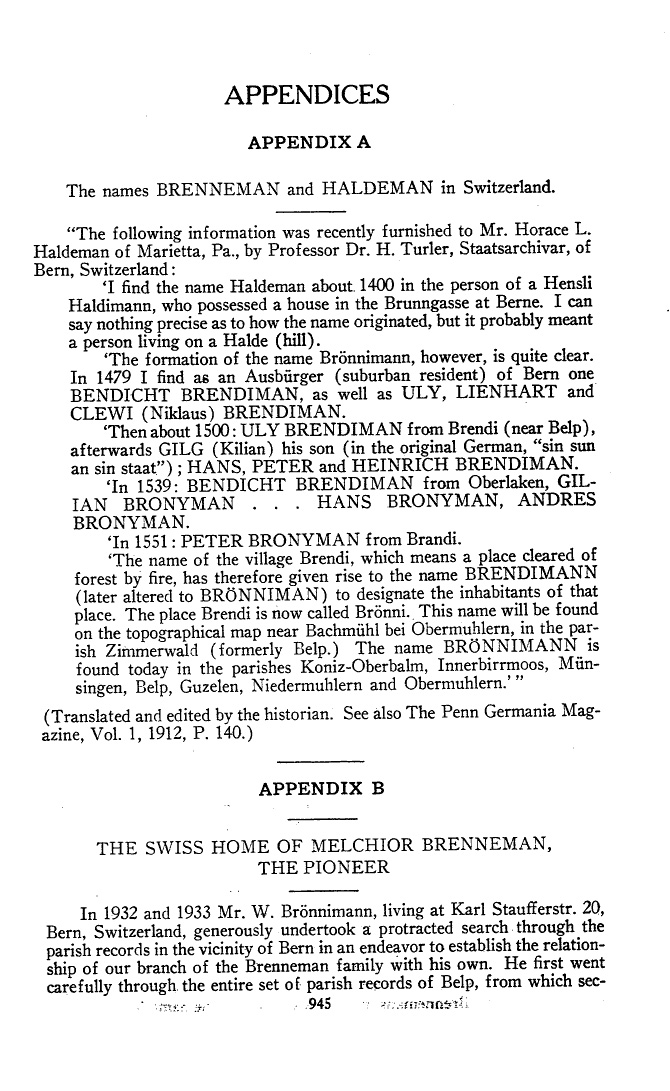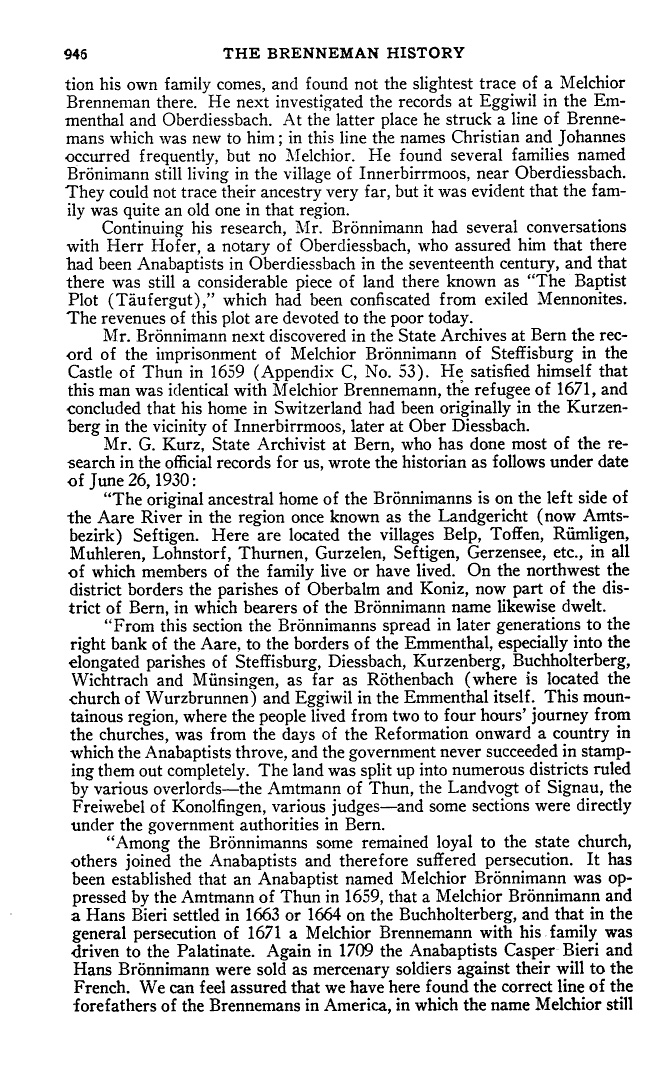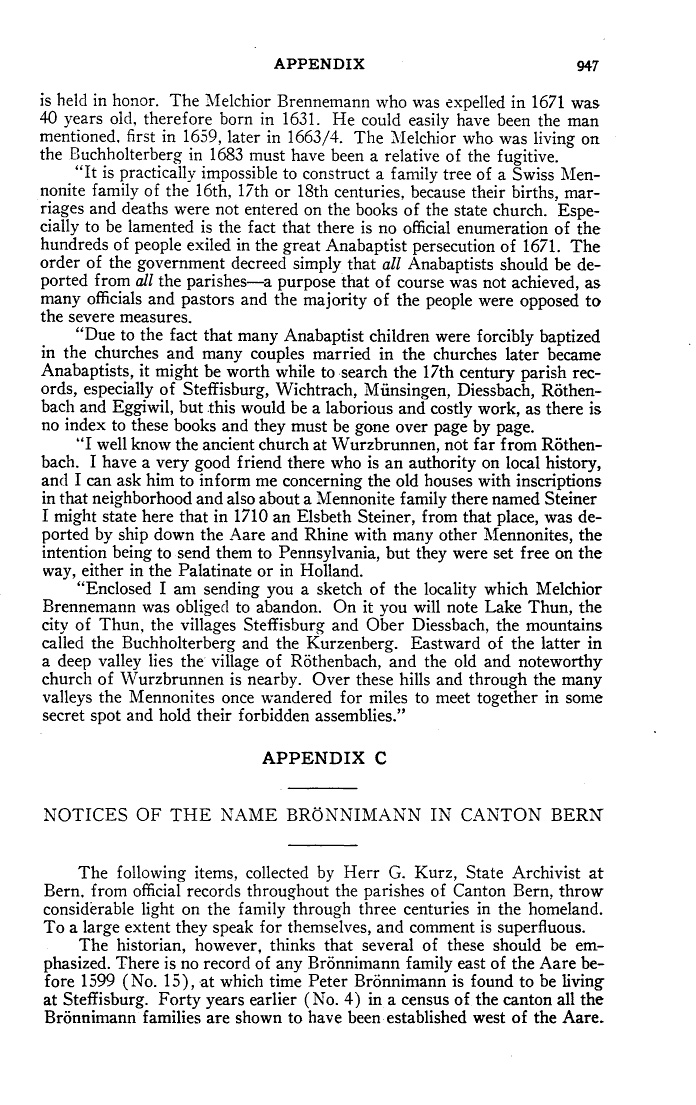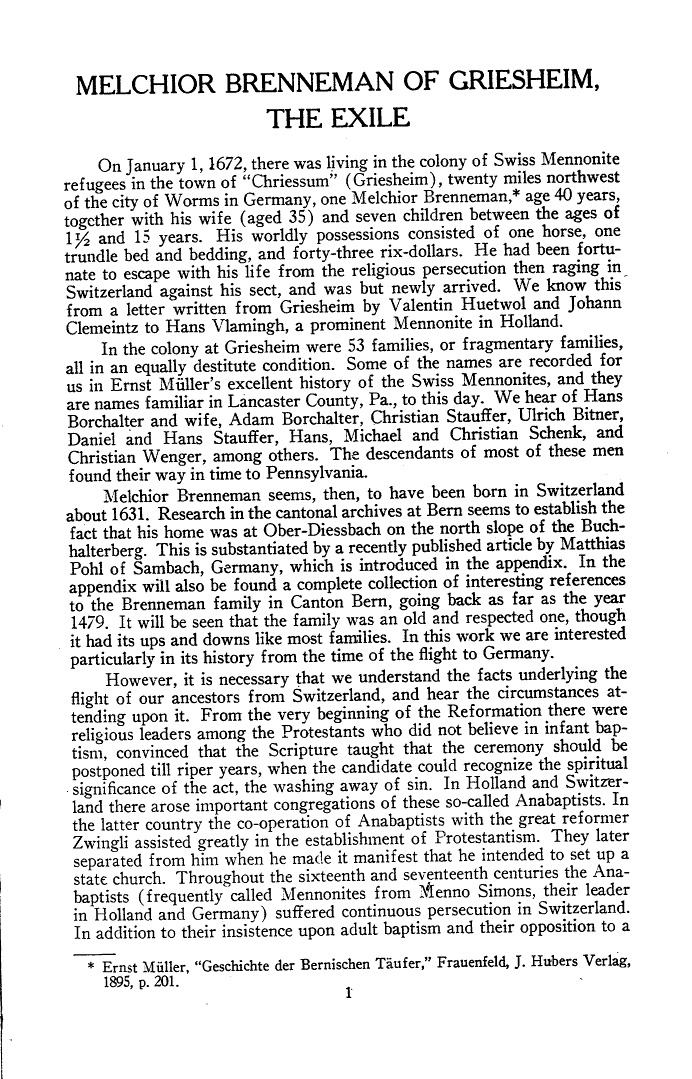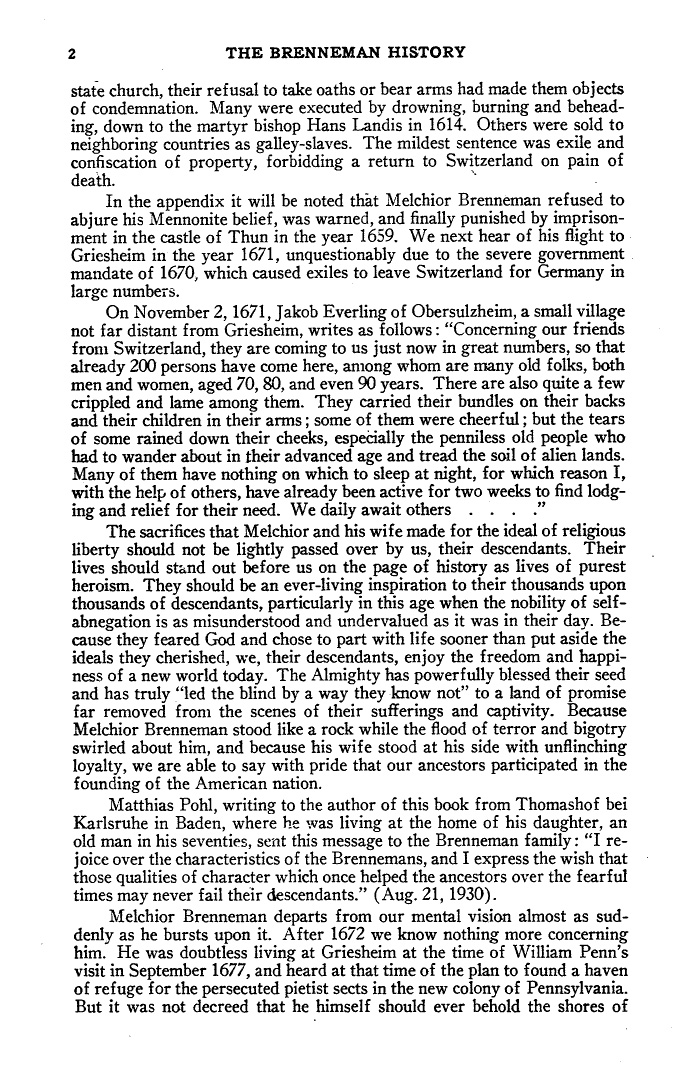 Top of Page